Jean Paul et Jean-Baptiste, paysans pisciculteurs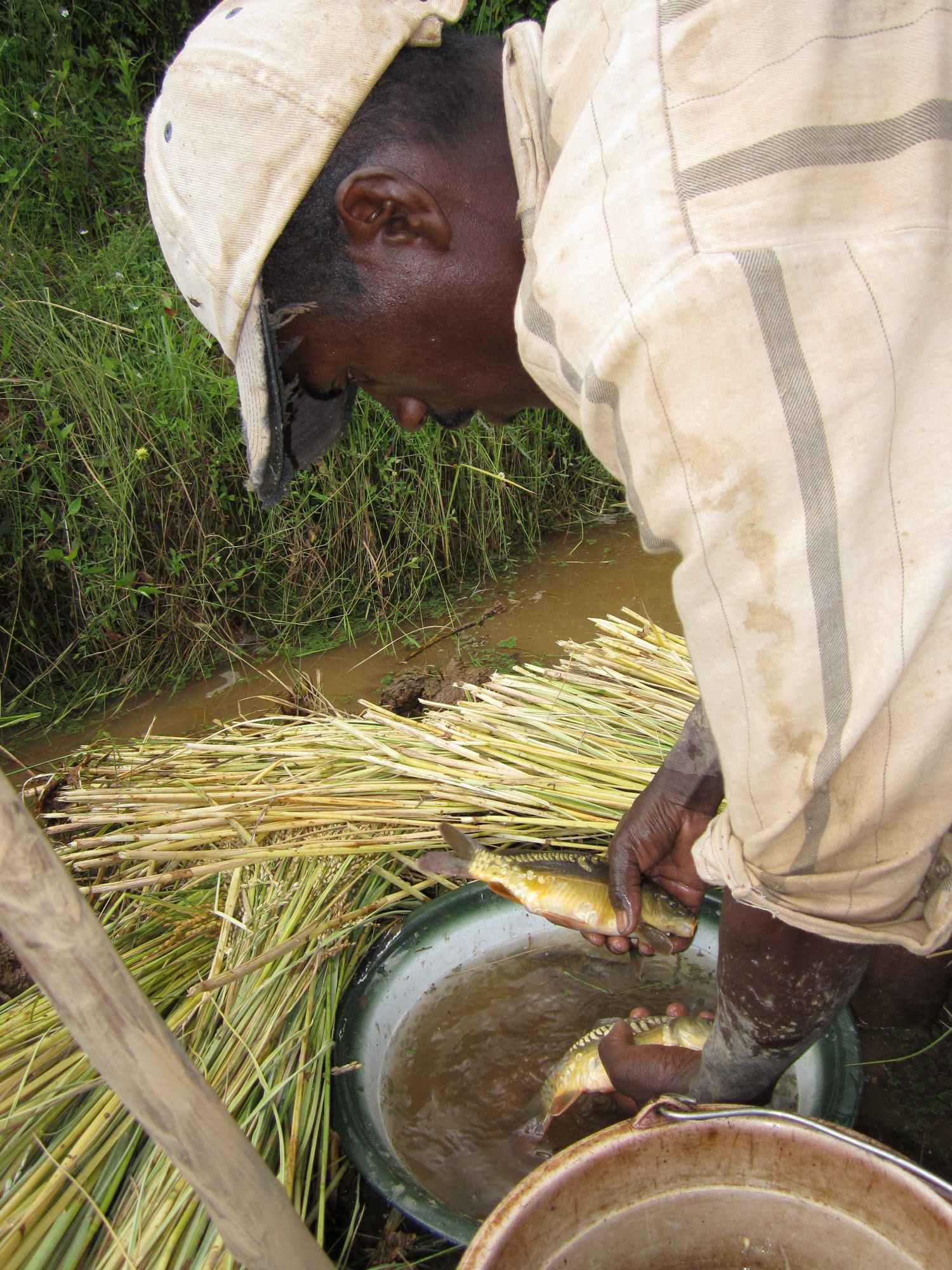 Who
Jean-Paul and Jean-Baptiste, rice-fish farmers of a small village of Madagascar
Project
Integration of fish in rice fields
Location
Madagascar – Vakinankaratra Region
It is in the rice-rice parcel of a small village named Marovano, Rural Municipality of Vinany, that Jean Paul (aka Ra Paoly) tells us more about his role of training farmers.
How did the first training session take place?
I have already experienced several stages: it should be noted that before knowing APDRA, I was already a fish farmer. I was passionate about fish farming, and I bought fish larva from other nurseries to breed in my rice fields. Then, with APDRA, I received training on the growth and production of fish larva which pushed me to persevere in the practice of rice-fish culture.
Currently, this is my third year in this activity. There were exchange visits organized by APDRA with fellow fish farmers from other places. This consisted in studying the reality experienced by fish farmers in the Region of Upper Matsiatra.
We have seen a considerable beneficial contribution, prompting us to continue and expand our activities. For us and the local residents having a lot of practitioners is beneficial.
What do you think of your role of « training farmer »?
As its name indicates, I must be a model for this activity. Depending on what I am able to achieve, it will encourage others to practice fish farming. I have been in this role for three months now. Psychologically speaking, I have the desire to always do better and to make more effort. On the commercial side, I notice that my fish larva are becoming more and more recognized and sought after on the market.
Do you encounter any difficulties?
I am a training farmer since this year, so I have not yet had the opportunity to face any major challenge. Currently, I am trying to gather residents to train them on how to practice fish farming in the rice field or pond. But given the lack of time, I have colleagues who lend me a hand to share the experience of fish farming. As I have said before, I am passionate about fish farming; the development of the rice-fish technique in the area and then throughout the District is my biggest challenge.
Jean-Baptiste challenged his father to develop his rice field to prove the benefits of rice-fish farming!
Jean-Baptiste could not attend APDRA trainings
The Municipality of Vinaninkarena has only known carp production since 2011 when APDRA arrived in the area.
Jean-Baptiste was not among those who attended the training that APDRA did on breeding fish larva. Interested but retained by the fieldwork of his parents, his friend which always attends trainings and who became a trainer told him all about the benefits as well as the arrangements necessary for a good production. Jean-Baptiste told his father but he strictly forbids him to touch the development of rice fields.
The courage to challenge his father and traditions
The following year, Jean-Baptiste insisted and challenged his father: he requested to use one of his parcels to put fish with the required layout; if it fails, he will pay the price of the difference in the amount of rice that the rice field has produced compared to the previous year. His father, though reluctant, accepted. Jean-Baptiste sought much more support from his friend. The cycle complete, he managed to demonstrate to his father that not only did he harvest a larger amount of rice compared to last year, but also got 5 kg of fish.
Results one year later
A year later, Jean-Baptiste followed a training on fish larva breeding as there is a shortage in his area. In 2014, with the support of his father, Jean-Baptiste was able to breed 500 fish larva on a larger paddy field and sold his production of about 20,000 fish larva, by bicycle, in and around his farm.
He dreamed for a long time to master sewing but for lack of money, his parents deprived him of it. Now he has been able to enroll and attend classes at a sewing vocational training center in Antsirabe now that the fish larva have all been sold in time.
En savoir plus sur le projet
These testimonies might interest you