Feedback of the solar salt production project
of the project is financed by SEED Foundation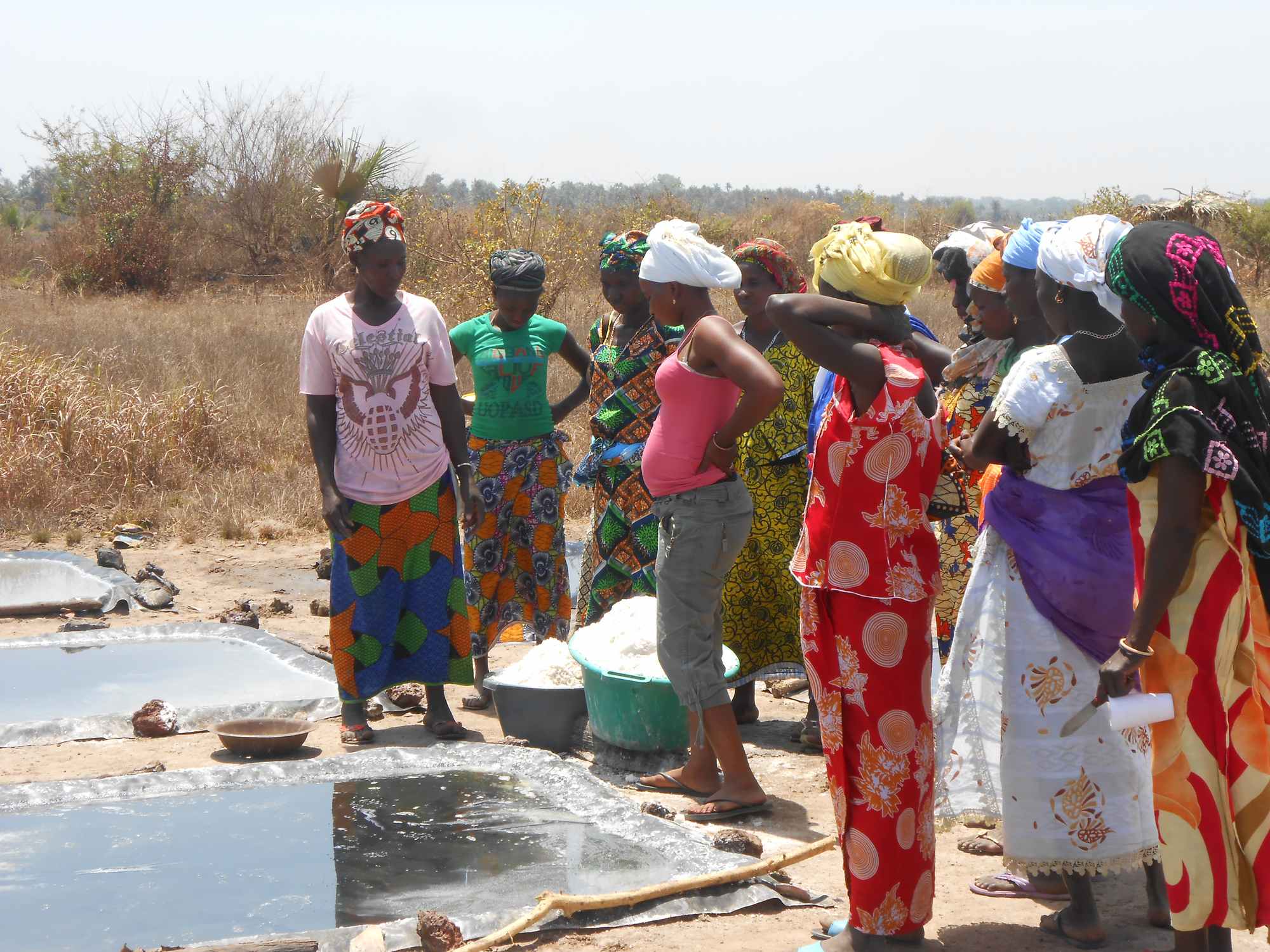 Project
Solar salt production
Location
Guinea Bissau – Oio area
Duration
October 2014 – September 2016
Feedback on the project implemented by Univers-Sel in Guinea Bissau that succeeded after 2 years at developing the salt production sector while preserving wood and reducing the duration of the task and ensuring higher revenues.
A new sustainable and less wearing production technique
Univers-Sel and its partner APROSAL set the project going in 2014 aiming at implementing a solar salt production in the Farim area in Guinea Bissau; this technique is currently being used in the salt production sector in Guérande, France.
The project introduced a solar alternative to the traditional cooking of salted water, therefore reducing wood-cutting as well as health hazards linked to the generated smoke. The technique contributed to strengthening the production and women revenues.
A 50% income increase for the same production
Without the new technique a producer must spend 56% of its operating costs to buy wood in contrast with the solar technique that only requires little equipment (tarpaulin) that is less expensive.
Implementing the solar technique generated a significant profit increase for the producers. Having no wood expenditures, the margin increases in average from 25% to 67%!
The steady spread of the solar technique along the Farim riverbanks
80% of the 1180 producers were informed of the existence of the solar technique and 53% of them received a presentation on their production site. The spread will be ensured thanks to 35 trained producers that will duplicate the training they received to their village's counterparts.
12 salt-schools are operational: as a place of display, the salt-school promotes the technique in order to spread it. A guide to the solar salt production has been written and is currently being reviewed.
A network of stakeholders to develop the solar salt production sector in Guinea Bissau
Within the scope of the project, analyses on the salt production in Guinea Bissau were conducted as well as a mapping of production sites; this data will enable the sector to develop. Moreover, a meeting gathering all stakeholders was held when the project was launched.
More on the project
Discover the typical profile of a salt producer in Guinea Bissau.
Ces témoignages peuvent également vous intéresser