CHILDREN DISCOVERING AFRICAN CEREALS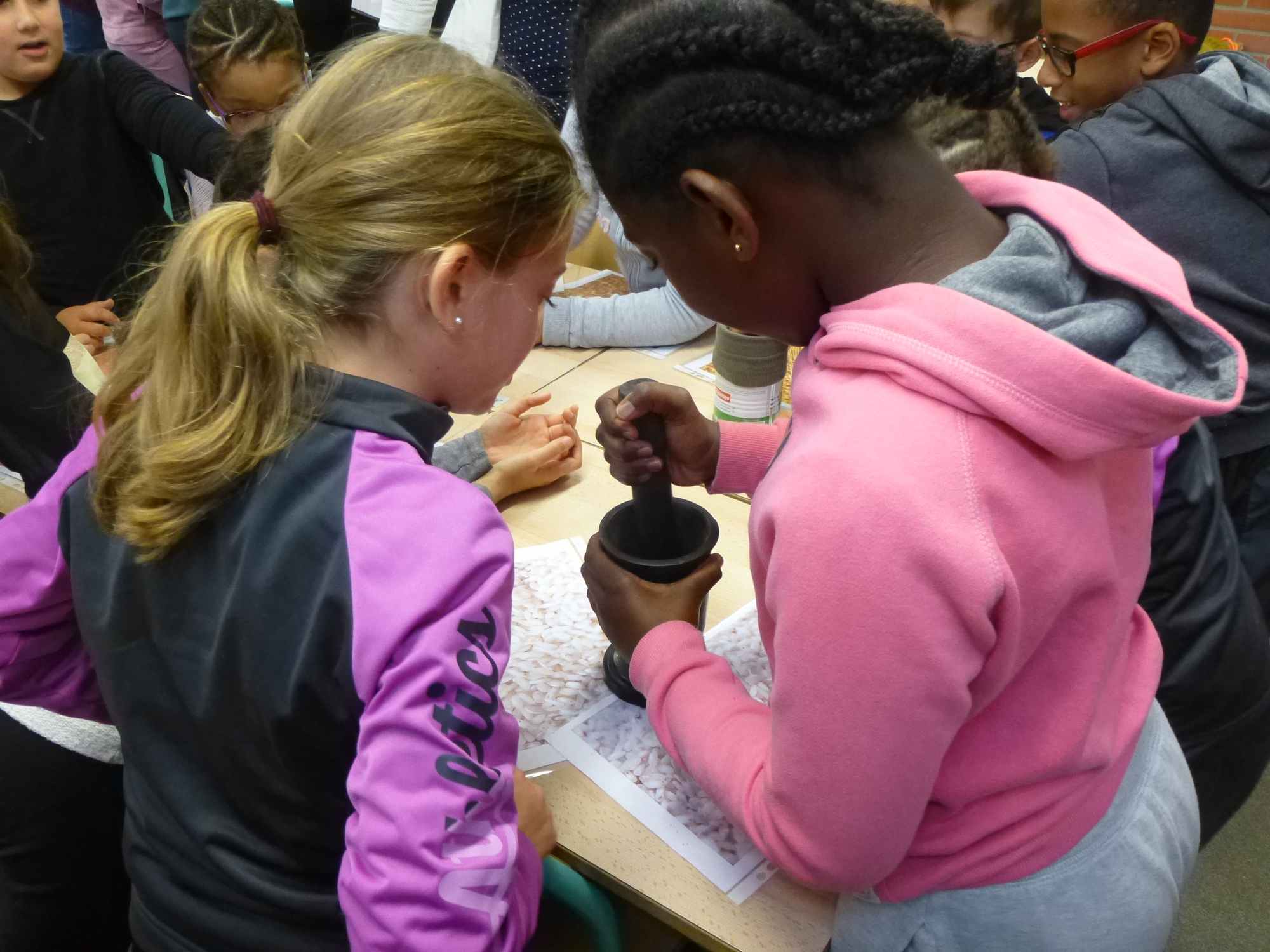 Événement
Séance de sensibilisation
Adresse
Ecole de l'Orme au Chat, Ivry sur Seine
Programme
Sensibilisation aux enjeux de l'agriculture paysanne et de la solidarité
In 2016, SEED Foundation rose to the challenge: it decided to target the young public and to raise awareness on its missions. By the end of the year, this challenge was operational with a cycle of educational sessions implemented with 2 classes of 4th graders in an Ivry-sur-Seine school. Discover feedbacks on this fulfilling experience.
To complement and offer a broader vision of the school program
50 4th graders took part in 3 sessions animated by the team of SEED Foundation and volunteers. Videos, mimes, activities that stimulate their senses, all means may be employed to talk about agriculture and explain concepts such as exportation or solidarity to 8 or 9 years old children.
These sessions were focused on how "to enhance African cereals in Senegal". This theme is directly linked to a project financed by SEED Foundation that aims at reintroducing local cereals such as millet and corn in bread and donut recipes in the region of Thies in Senegal.
As they were already well informed on the cycle of plants and on locating continents, the presentations were an opportunity to deepen their knowledge on the definition of cereals and on the problems actors of the bread sector could be faced with.
More on the project
To discover the world of "non lucrative organizations" and to generate solidarity
"Children are overflowing with ideas since your sessions: offering cookies, giving drawings, I feel there is a new enthusiasm for the values of sharing", says Aline Legendre their teacher.
Indeed, these presentations widened the chain of solidarity by adding a new link: the children.
They were offered the opportunity to support the project by creating holiday cards that were then sold. Money collected will encourage Senegalese actors to continue their efforts to develop their activity. A total of a 100€ were collected. In order to thank the students for their help, they were handed diplomas of solidarity.
More on the project
"Children are overflowing with ideas since your sessions: offering cookies, giving drawings, I feel there is a new enthusiasm for the values of sharing."

Aline

Enseignante en classe de CM1
Malgré le sujet qui pouvait paraître pointu pour des enfants de CM1, ils ont tout de suite adhéré au projet et compris les enjeux économiques et de solidarité. Les élèves ont manifesté leur envie de collaborer avec d'autres associations ou projets.

Tsipora

Enseignante en classe de CM1
Nos partenaires solidaires
These events might interest you