GEORGE, BENEFICIARY OF THE PROJECT IN CONGO BRAZZA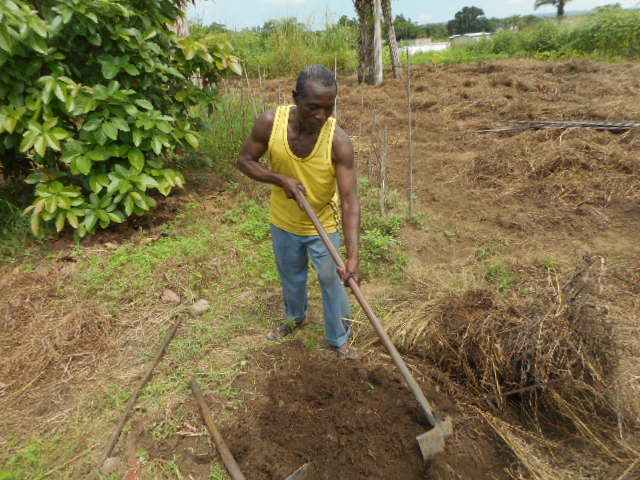 Who
George, beneficiary of the project in Congo
Project
Using bush plants as a pesticide
Location
Republic of Congo – Brazzaville, district of Madibou
George has 2 wifes and 11 children. This educated father started out as a farmer in 2009. In 2014, he left his village to find himself in the peri-urban area of Brazzaville where he began to produce vegetables using fertilizers and chemical pesticides to make a living with an income of 300,000 FCFA (457 €) per cycle.
How did you hear about the project?
I knew and started to participate in project activities during the agrarian diagnostic period.
With the theoretical, practical and participatory trainings developed with the project teams, we have been forced to notice the indirect effects of subsidized fertilizers. The farmers in my area and I had chosen chemical fertilization for ease but when the subsidies stopped, we ended up with dead, inert soils.
Since 2016, I participated in all the activities organized by the project and I strengthened my skills. I even started with friends the cooperative "Organic Garden", which I chair.
And today, what are the life changes you notice on a personal level?
Frankly, this is the first time in my career as a farmer that I receive such training sessions. The project has made us aware of the mutualisation of the costs of factors of production, whether they are inputs bought in a group order or materials managed jointly, but also of producing organic fertilizers by ourselves using local plants, available in our direct environment, such as chilli, papaya leaves, garlic or tobacco.
Today, the 386 farmers who regularly follow the training for 18 months are convinced that this way of doing things is both sustainable, less expensive and a factor of independence. As proof, I definitely turned my back on chemical fertilizers and pesticides and the innovations promoted by the project increased my quarterly income to 425,000 FCFA (648 €).
More on the project
Ces témoignages peuvent également vous intéresser